Thai cashew stir-fry  – better than take-out!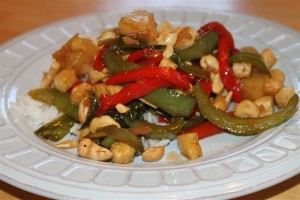 3 Tbs vegtable oil
1 Package extra firm tofu, cubed
2 cloves garlic
2 Tbs fresh ginger, minced
2 Tbs thai Chili sauce
9 Tbs Braggs amino acid (or soy sauce)
3 Tbs brown sugar
1 red pepper, cut into strips
1 green pepper, cut into strips
5 scallions or 1 onion
½ Cup cashews
Optional: pineapple
Optional: fresh basil
–       In a small bowl, mix together: Braggs, brown sugar and chili sauce
–       Heat part of the oil in non stick frying pan. Pan fry cubed tofu until crispy
–       Heat the rest of the oil in a large skillet or wok.
–       Add garlic & ginger and cook for a minute or two
–       Add vegetables and stir fry for just a couple of minutes
–       Add Braggs mixture to vegetables and cook for another 5 minutes or until peppers are softened
–       Add Tofu, cashews, pineapple & basil and mix.
–       Serve over rice.
–
Most Thai food restaurants use fish oil and/or fish broth in their stir-frys.  This recipe is VEGAN and just as tasty!