Baked Falafel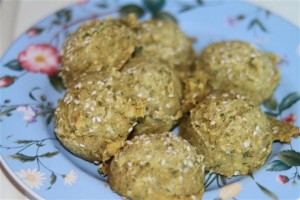 1 Can Garbanzo beans, rinsed & drained
1 small onion, chopped
2 cloves Garlic, smashed
½ tsp dried parsley
2 tsp Cumin
Dash Tumeric
½ tsp baking powder
1 slice vegan-friendly bread, toasted
½ tsp salt
¼ tsp pepper
½ C flour
1 T sesame seeds
Olive oil in spray or pump bottle
–          Preheat oven to 400
–          Blend toast in food processer until bread crumbs
–          Add all other ingredients (except for flour & seeds) and blend.  You may need to add 1 T of water or more for everything to blend well.
–          In a mixing bowl add flour & seeds to bean mix until thick.
–          Use ice cream scoop to make falafel balls on oiled baking tray or try lined with parchment paper – sprinkle with additional sesame seeds
–          Spray or pump olive oil for light coating
–          Bake for 15-20 mins
–          Enjoy!  I used in a wrap with tahini sauce, fresh tomatoes, cukes, onions and lettuce.. Yummm.