Archive for February, 2012
Ciambotta
(pronounced Jum-buta)
This is an Italian squash stew that has been one of my favorite childhood & adult recipes – passed down from generation to generation it changes and is easily adaptable to likes/dislikes and freshness of vegetables.  That said, these vegetables and amounts are more like loose guidelines than an exact measurements!
2 large zucchini, cut in cubes or ½ circles
2 medium yellow squashes, cut in cubes or ½ circles
1 large potato, cut into cubes
1 onion, chopped
5 cloves of garlic, crushed
1 pepper (green or red..) chopped
Green beans, fresh or frozen work
Olive oil, enough to cook with
Fresh basil (the more the better!)
Lima beans (optional ) or Chick peas (optional) or neither!
1 large can of Diced Tomatoes (or 1 lb of fresh tomatoes chopped – if you have enough in the garden)
Any other vegetables that are fresh or you love – for instance, if you have some fresh sugar snap peas, spinach, eggplant etc. add them in!
–          Add all vegetables (except tomatoes) in a large pan with olive oil.  Cover & cook on medium-low for about 20-30 minutes – until vegetables are soft looking
–          Add in tomatoes (and basil if you haven't already) season with salt & pepper to taste
–          Cover and simmer for another 30 minutes – the longer the better the flavors simmer together..
–          Serve in a bowl with fresh bread to dip!  YUMMMM!
Recipe From: http://www.vegetariantimes.com/recipes/11831
Yumm!
I added a bit more olive oil to lightly coat the bottom of the baking dish and also needed to cook it an additional 15 minutes from what was recommended.   Also, I served it with a garlic/wild rice/chickpea  side – which we good, but will probably pair the eggplant cutlets with couscous or a pasta next time!  ENJOY!
Vegetable Red Curry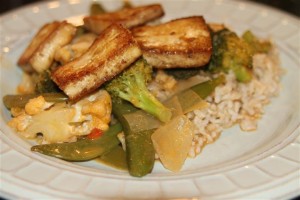 1 package of Extra Firm Tofu sliced  and pan fried with a dash of curry powder, sugar and Braggs
Fresh Vegetables (Broccoli, cauliflower, sugar snap peas, peppers)
Vegetable oil to cook
1 onion, sliced
3 garlic cloves, chopped
2 tsp Thai red curry paste
14oz can Light Coconut Milk
3 Tb Braggs or soy sauce
1 Tb brown sugar
Peanuts to top!
In a pan, heat oil, onion, garlic and curry paste stirring until onion is softened.  Add coconut milk, vegetables and seasonings. Bring to a boil and then simmer until vegetables are tender.  Top with seared tofu and peanuts!
Butternut Squash Stuffed Shells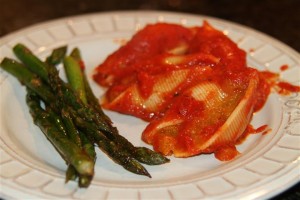 1 butternut squash, peeled & cubed
½ tsp garlic salt
½ tsp cinnamon
Dash nutmeg
1 T margarine or olive oil
¼ C Maple syrup
Salt to taste
1 box Jumbo Shells
1 jar of organic tomato sauce or homemade sauce
Cook shells as directed by box and rinse with cold water so they can be easily handled.  As shells are cooking put cubed squash in a deep pan and fill with water, bring to a boil and cook until squash is soft when pricked with a fork.  Drain squash and put back in pan.  Mash squash with potato masher and add seasonings.  In a baking dish pour a thin layer of sauce.  Fill each shell with squash mix and place in baking dish.  Cover with remainder of sauce.  Cover dish with tinfoil and bake at 400 for 30 mins.
Vegan Coconut cake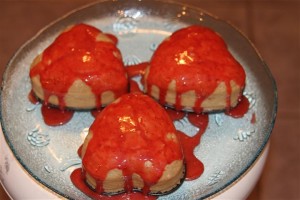 ¾ C Sugar
2 ¼ C Flour
1 tsp Baking powder
1 ½ non-dairy milk (I used Almond)
¼ C + 1 Tb melted vegan margarine (I use Earth Balance)
1 tsp vanilla
½ C Shredded coconut
Preheat oven to 350
Mix together: Sugar, flour, baking powder
Add in: Milk, margarine and vanilla while stirring
Fold in coconut
Vegan Strawberry frosting
1 C frozen or fresh strawberry
1 T water
2 C Powered Sugar
2T margarine
In a small pan, bring strawberries & water to a simmer.  Cook for about 10 mins.  Place in food processer with sugar and margarine…. Blend!
BLACK BEAN-QUINOA BURGERS
2 cloves garlic
½ onions, chopped
1 Can Black Beans, rinsed & drained
1 tsp  Salt
½ Cup diced red pepper
1 Tb Chili Poweder
1 tsp Cumin
¾ C Flour
3 Cups cooked Quinoa (1 Cup dry)
Olive Oil for cooking
–       Cook Quinoa as recommended (I used ½ veg broth ½ water)
–       Combine everything but Flour & Quinoa in a food processer/blender.
–       Mix in a bowl with Flour – keep adding until it's a thick paste.
–       Make patties.
–       EITHER Fry patties in Olive oil or Bake in oven (on Parchment paper) for 30 mins or so on 350.
Baked Falafel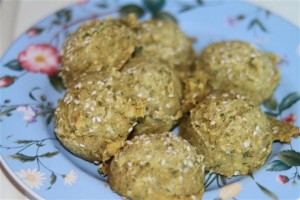 1 Can Garbanzo beans, rinsed & drained
1 small onion, chopped
2 cloves Garlic, smashed
½ tsp dried parsley
2 tsp Cumin
Dash Tumeric
½ tsp baking powder
1 slice vegan-friendly bread, toasted
½ tsp salt
¼ tsp pepper
½ C flour
1 T sesame seeds
Olive oil in spray or pump bottle
–          Preheat oven to 400
–          Blend toast in food processer until bread crumbs
–          Add all other ingredients (except for flour & seeds) and blend.  You may need to add 1 T of water or more for everything to blend well.
–          In a mixing bowl add flour & seeds to bean mix until thick.
–          Use ice cream scoop to make falafel balls on oiled baking tray or try lined with parchment paper – sprinkle with additional sesame seeds
–          Spray or pump olive oil for light coating
–          Bake for 15-20 mins
–          Enjoy!  I used in a wrap with tahini sauce, fresh tomatoes, cukes, onions and lettuce.. Yummm.
Pasta
Onion
Garlic, chopped
1 can Cannellini beans (white beans)
Spinach
Olive oil
Tomatoes
Spices to taste: salt, pepper, crushed red pepper
–       Cook Pasta
–       While pasta is cooking, sauté onion and garlic in olive oil with spices (add spinach if using frozen- wait if it's fresh)
–       Once onions are soft, add beans and spinach (if fresh)
–       Mix in pasta once cooked… mix well adding some more olive oil and salt & pepper if needed.
–       Mix in fresh tomatoes (optional)
–       ENJOY!
TOFU BALLS
1 package tofu
1/2 C Flour
1/3 C oatmeal
½ tsp garlic powder
½ tsp basil
Dash oregano
½ tsp salt
¼ tsp pepper
¼ C diced onions
–       Mash tofu with fork in large mixing bowl
–       Mix in all ingredients
–       Ball & fry in olive oil
Although they turned out pretty good – I will try using breadcrumbs instead of flour next time… I would also recommend increasing seasonings as they were a tad bland.