Archive for January, 2012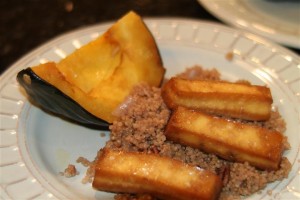 Pecan Quinoa:
1 Cup dry Quinoa
1 Cup Water
1 Cup vegetable broth
½ tsp salt (more to taste)
½ of a medium  onion
1 tsp margarine or olive oil
¼ tsp cinnamon
Dash nutmeg
¼ Cup Pecans, crushed
¼ Golden raisons
–       Sautee onions in margarine until soft
–       Add Quinoa, pecans and salt and sauté for another 1 minute
–       Add water, broth, cinnamon, nutmeg and raisons
–       Bring to a boil, cover, reduce heat and simmer for 10-15 minutes
Acorn Squash:
1 acorn squash
1 Tb margarine (Earth Balance)
1 tsp brown sugar
Water
–       Cut squash in half – clean out seeds – place face down in a deep baking dish with a ½ inch of water in dish.  Bake at 400 for 30-60 minutes (until soft)
–       Turn over – add butter & sprinkle with sugar – bake for another 5 minutes.
Baked Tofu:
1 package Tofu, extra firm
Maple syrup
Braggs/soy sauce
Olive oil
–       Cut Tofu into blocks or thick strips
–       Drizzle with maple syrup, braggs and oil
–       Bake at 400 for 45 mins (turning tofu over at least once)
WALNUT SAUCE
2 Cups Walnuts, toasted *
½  Cup Olive Oil
½  Cup Veg. Broth
Garlic (1-2 cloves if raw – whole head if roasted first)
½ tsp Salt
¼ tsp Pepper
1. Blend all ingredients, using food processer or blender until creamy (add more water or broth if needed)
2. Stir with cooked pasta… top with lightly sautéed vegetables… or a fresh tomato salad.
It's creamy – like a vegan alfredo sauce.. but packed with omega-3 and protein!  This is a long-time family favorite.
* careful not to over-toast.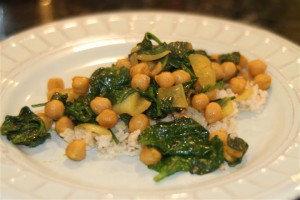 Curried Spinach & Chick Peas (quick & easy)
olive oil, enough to cook with
½ medium onion, diced
1 large garlic clove, minced
Spinach, Fresh (or frozen)
1 Can organic garbanzo beans (chick peas)
½ tsp cumin
1 tsp curry powder
½ teaspoon sea salt
1 tsp Sugar in the raw
– Cook onions & garlic in olive oil and all seasonings in a large sauté pan until onions begin to soften
– Add chick peas
– Slowly add fresh spinach just until wilted
– Serve over rice.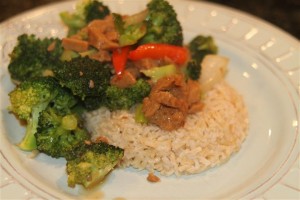 Ingredients:
– 1 package of Seitan (I cut into small pieces)
– Fresh Broccoli 
– 2 Tb Flour
– 1 Cup veg broth
– 2 Tb brown sugar
– 2 Tablespoons of Braggs/soy sauce
– 1/4 teaspoon Ginger, minced
– 1 clove of Garlic, minced
– Onions/scallions
– Water chestnuts, sliced
1. In a bowl, combine: Flour, broth, sugar & soy sauce (stir well)
2. In skillet cook Seitan, broccoli, ginger and garlic for a few minutes
3. Pour in broth mixture – bring to boil – reduce heat & simmer until thicker
4. serve over rice
Bean Soup
1 onion
4 cloves garlic
2-3 carrots, chopped
1-2 celery, chopped
Olive oil, enough to sauté
6 cups water
1 vegetable bouillon cube
Salt & pepper to taste
2 Cans of different beans (kidney, black, chick pea..) rinsed
Frozen green beans
Frozen spinach
Brown rice
–          Sautee onion, garlic, carrots, and celery in a soup pot.
–          Add the rest of ingredients and bring to a boil
–          Return to medium heat and simmer until rice is cooked.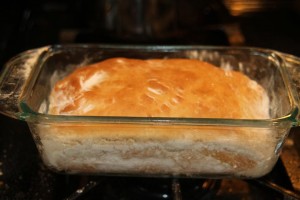 Homemade Dinner Bread
2 cups of flour (more or less)
1 envelope Rapid Rise Yeast
2 Tb Sugar
½ tsp Salt
½ Cup non-dairy Milk (soy or almond)
¼ Cup Water
2 Tbs Vegan Margarine (Earth Balance)
–          Combine 1 Cup flour, undissolved yeast, sugar and salt in food processer with dough hook.
–          Then combine all milk, water & butter and heat
–          Pour warm liquid mix into food processor and mix.
–          Add more four – ¼ cup at a time, mixing until soft dough if formed.
–          Transfer into a floured bowl or bread pan and let rise for about 30 mins
–          Bake at 375 for 20 minutes.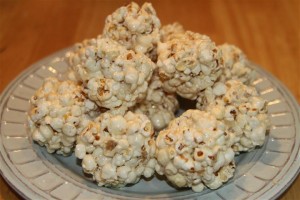 Vegan Popcorn Balls
1 large bowl filled with popped popcorn
1/3 Cup Agave Syrup
1 TB vegan margarine (Earth Balance)
2 Tb cold water
1 Cup Powdered Sugar
½- 1 Cup Vegan marshmallows
–          In a saucepan over med-low heat mix together all the ingredients (expect popcorn).  Sir continuously until mostly smooth.
–          Pour mixture over popcorn and mix evenly
–          Wait until mostly cool and then shape into balls.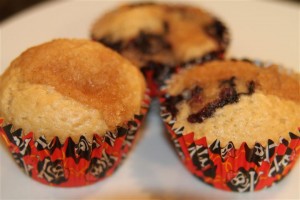 1 ½ Cup Flour
¾ Cup sugar
¼ tsp salt
2 tsp baking powder
1/3 Cup Vegetable Oil
1 egg replacer
About 1/3 Cup non-dairy Milk (soy, almond, rice)
1 Cup fresh blueberries
Sugar to sprinkle on top of muffins
–          Preheat oven to 400
–          Combine flour, sugar, salt and baking powder
–          Mix egg replacer in a 1 cup measuring cup. Add 1/3 cup oil.  Add Milk to fill cup.
–          Mix, then fold in blueberries.
–          Use ice cream scoop to scoop into muffin liners and top with a sprinkle of sugar (and cinnamon if you'd like)
Spicy Green beans & Tofu
Quick & easy!
1 package Tofu, cubed
Green Beans, Fresh or frozen
1 Tb Oil, vegetable or olive
½ tsp garlic
1 tsp ginger
½ tsp sugar
3-4 Tb Braggs or soy sauce
¼ – ½  tsp Crushed pepper
–          In a frying pan, cook tofu & spices in the oil.
–          When tofu is browned, add green beans and braggs
–          Cook until green beans are cook to your liking
–          Serve over rice!
( I leave the crushed pepper to last so I can pull some out without spice for my toddler)
This meal is great and only takes a few minutes. You can certainly dress it up with scallions, red peppers, water chestnuts or sprouts!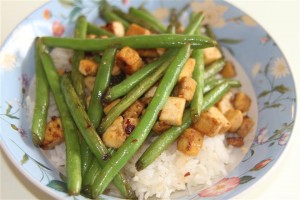 Sweet potato & Carrot Bisque
1 Tb Olive oil
1 onion, diced
1-2 celery stalk, chopped
3 cloves garlic, crushed
2 Cups Vegetable broth
2 Cups Water
2 Cups sweet potatoes, peeled & diced
1 Cup Carrots, diced
1 tsp cumin
1/2 tsp salt
½ tsp Curry powder
½ pepper
1 Cup Soy Milk
In a large pan, cook onion, celery & garlic in olive oil for a few minutes.  Add everything else EXCEPT soy milk.  Bring to a boil, then simmer over medium until potatoes & carrots are soft (about 20 mins). Put soup in blender/food processer – blend until smooth. (if using a blender – make sure to use an oven mitt to hold down cover, otherwise you may burn your hand or it could "explode" all over the  kitchen!)  Return to pan & stir in soy milk over low heat. Ready!