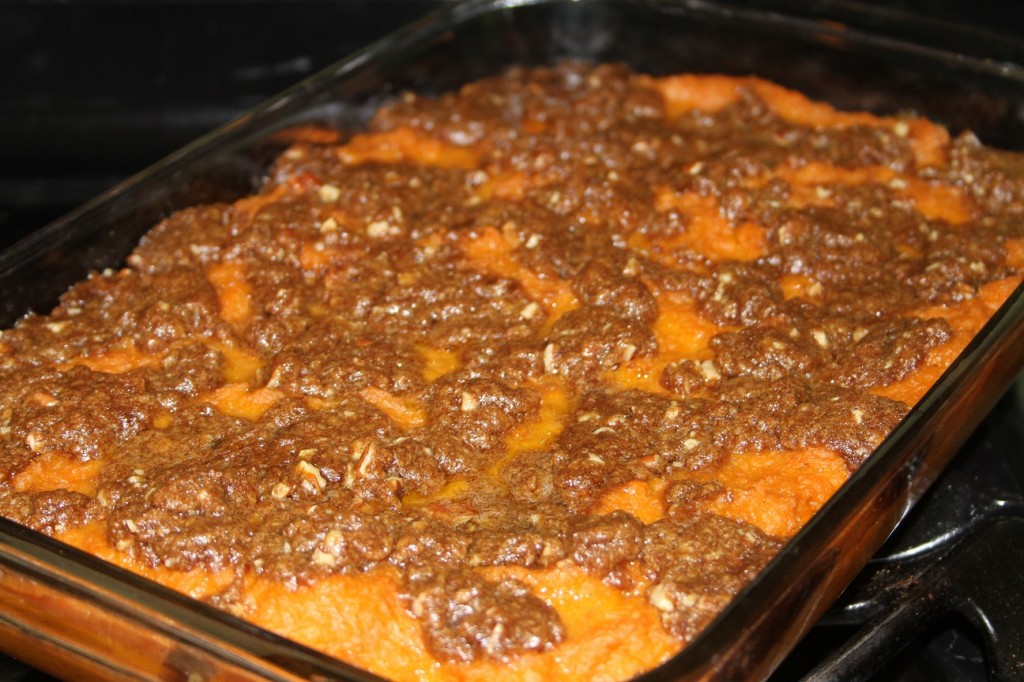 Sweet Potato Casserole
4 Cup  Sweet potatoes, cubed
½ Cup sugar (I used coconut sugar)
2 egg replacer (3 tsp energy & 2 Tbs water)
½ tsp salt
4 Tbs earth balance butter
½ cup non-dairy milk (soy, rice, almond etc.)
½ tsp vanilla extract
Topping:
½ Cup brown or coconut sugar
1/3 Cup flour
3 Tbs earth balance, soften
½ Cup chopped pecans
Preheat oven to 325. Boil sweet potatoes in water until soft.  Drain and mash with the rest of the ingredients (except topping).   Put in baking dish, top with "topping" mix.  Bake for 30 mins.
Homemade Lentil Soup
Olive oil
1 onion, chopped
2-3 carrot, diced
2 stalks celery, chopped
2 cloves garlic, minced
1 tsp oregano
1 tsp basil
1 bay leaf
1 14.5 oz crushed tomatoes
2 cups dried lentils, rinsed
8 cups of water (or 4 C water & 4 C veggie broth)
Fresh (or frozen) spinach
Salt & pepper to taste
Elbow pasta (1/2 box)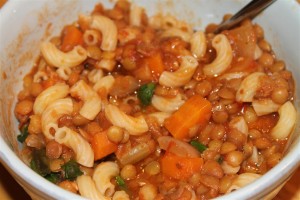 –          In a large pot, heat olive oil, onions, carrots, celery, garlic oregano and basil – cook until onions begin to soften.
–          Add lentils, bay leaf, water and tomatoes
–          Bring to boil and then reduce to simmer for 1+ hours
–          After 40 mins – boil water and cook pasta
–          Add spinach salt & pepper and cooked pasta to soup.
Pineapple-Cashew Quinoa
Quinoa – (cook 1-24 hrs prior)
1 C Quinoa, rinsed
1 C pinaplle juice
1 C water
½ tsp braggs amino acids or soy sauce
–          Combine Quinoa, juice, water and braggs in pot.  Bring to boil. Cover, reduce to medium heat and cook for about 15 minutes (until all liquid is absorbed)
–          Fluff with fork and refrigerate for an hour or overnight.
Stir Fry
3 Tbs oil (peanut, olive or veggie)
2 scallions
2 cloves garlic
1 inch piece fresh ginger, peeled and minced
1 red pepper, diced
1 cup frozen edamame (or peas)
1/2- 1 C carrots, shredded
Topping
3 Tbs Braggs or soy sauce
3 Tbs Vegetable broth
½ C cashews
½ C fresh basil
2 Tbs fresh mint
1+ C fresh pineapple (chunks) or 10 oz can
Lime wedges for garnish (optional)
–          Add stir-fry ingredients to a large pan, cook for about 5 minutes until edamame is no longer frozen and pepper is soft
–          Add Quinoa and topping ingredients.  Cook for another 10 minutes – stirring together and keeping quinoa from sticking to the bottom.
Strawberry Oatmeal Squares
1 ½ C Flour
1 ½ C Oats (quick cooking)
2/3 C Sugar
½ tsp Baking powder
¼ tsp salt
½ tsp cinnamon
¾ C vegan Margarine melted
1 vegan egg replacer
2 tsp Vanilla extract
1 14oz jar Strawberry preserves (or any other fruit you'd like!)
½ Coconut flaked
– Mix all dry ingredients (except coconut) together in large bowl (bowl 1)
– Add margarine & vanilla, stir
– set aside 1 ½ – 2 Cups (into bowl 2)
– Add egg replacer to bowl 1
– press mixture from bowl into baking pan
– spread preserves over crust
– Add coconut to mixture that you set aside (bowl 2)
– sprinkle over preserves
– Bake at 350 for 40 mins
Thai cashew stir-fry  – better than take-out!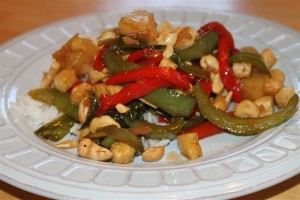 3 Tbs vegtable oil
1 Package extra firm tofu, cubed
2 cloves garlic
2 Tbs fresh ginger, minced
2 Tbs thai Chili sauce
9 Tbs Braggs amino acid (or soy sauce)
3 Tbs brown sugar
1 red pepper, cut into strips
1 green pepper, cut into strips
5 scallions or 1 onion
½ Cup cashews
Optional: pineapple
Optional: fresh basil
–       In a small bowl, mix together: Braggs, brown sugar and chili sauce
–       Heat part of the oil in non stick frying pan. Pan fry cubed tofu until crispy
–       Heat the rest of the oil in a large skillet or wok.
–       Add garlic & ginger and cook for a minute or two
–       Add vegetables and stir fry for just a couple of minutes
–       Add Braggs mixture to vegetables and cook for another 5 minutes or until peppers are softened
–       Add Tofu, cashews, pineapple & basil and mix.
–       Serve over rice.
–
Most Thai food restaurants use fish oil and/or fish broth in their stir-frys.  This recipe is VEGAN and just as tasty!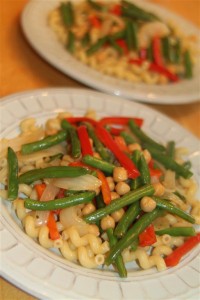 1 Box Pasta
Fresh Green beans
1 large red pepper
1 medium onion
1 can Chick peas, rinsed & drained
2 cloves garlic
salt, pepper, dried basil, sugar to taste
olive oil
– While water is boiling, cut up all veggies and saute over med-low heat in olive oil and seasonings (add chickpeas once veggies are cooked)
– Cook pasta as directed, drain and dress with olive oil and some additional salt & pepper
– Top pasta with veggies
Roasted Cauliflower Curry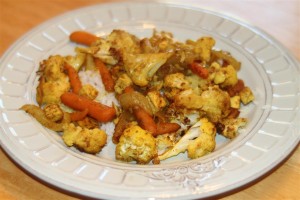 Cubed Tofu
Olive oil
3 Tbs Curry Powder
1 tsp cumin
1 tsp ginger
1 tsp salt
1 onion, sliced
1 cauliflower head, cut into small pieces
3 large carrots, peeled and chopped or baby carrots
Cooked rice
–       Preheat oven to 450
–       In a skillet over medium heat, cook onions and all spices in olive oil until onions start to soften
–       Mix all ingredients together – make sure everything is coated with spice and onion mixture. (may need to add more oil)
–       Bake for about 30 minutes – stirring 2-3 times
–       Serve over rice (I made a coconut-jasmine rice this time)
Home-made Pumpkin Ravioli with Hazelnut Cream Sauce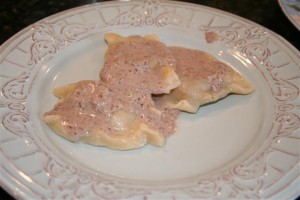 Pasta:
2 Cups Flour
2/3 Cup Water
½ tsp salt
1 T olive oil
Mix all ingredients together until dough comes together in a ball.  Kneed on floured surface until smooth. Cover and let rest for 10 minutes.  Roll out into sheets (or use hand crank pasta machine – Pull off small chuck (about 1/8th of ball) flour well and run through on 1st /largest setting, re-flour, fold into thirds and run through the 2nd setting, repeat until the desired thickness – we use #5 on our machine) if it's too thin then the fillings seems to seep out.  Once in strip and desired thickness, cut into squares, fill with pumpkin filling and fold, be sure to press together edges well so filling doesn't escape.  Place on flat floured surface until ready to cook – DO NOT stack on top of each other or they will stick and rip.   Once ready to cook, place 5 or 6 raviolis into boiling water. Wait until raviolis start to float (about 30 secs) and take out of water with slotted spoon.
Filling:
1 large Carrots
1 small onion
1 cloves garlic, minced
1 Tbs vegan margarine or oil
1 16 oz can pureed pumpkin
Salt & pepper to taste
1tsp coriander
1 tsp allspice
1 Tbs Maple syrup
In a medium pot, cook carrot, onion, garlic, salt, pepper coriander and allspice  in margarine until soft.  Then, add pumpkin puree and maple syrup.  Cook on low heat for a few minutes or until ready to use.
Sauce:
2 Cups Soy Milk
1 Cup toasted, chopped hazelnuts
3 cloves garlic, minced
Dash white pepper
Dash cayenne pepper
Combine all ingredients in small pan and bring to a boil.  Lower heat and simmer for 10 mins.  Transfer to food processer or blender and blend until smooth.  Return to pan and keep warm on med-low heat.  If not thick enough bring back to a boil until thickened.
Also – These are seriously DELICIOUS!!!!!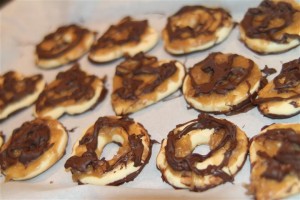 REVIEW: Vegan Samoas
Recipe found on VegNews:
http://vegnews.com/articles/page.do?pageId=4249&catId=11
Well, after 5 hours of mixing, baking, waiting, heating, stirring, coating, waiting…. I'd say these cookies are good.  Not great, not bad, but good.   Would I happily eat and enjoy them – yes!  Would I spend the time and effort to make them a second time – definitely not!