Thanksgiving can be celebrated with friends family and good food… without hurting any of our feathered friends!  In addition to countless vegan "turkey substitutes"  you can try making a homemade lentil loaf with all of the fixins!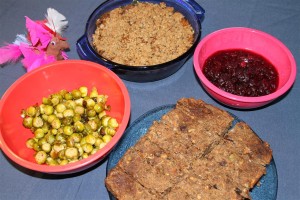 Lentil-Walnut loaf with a maple glaze:
I basically used this recipe from Oh She Glows… because it's pretty awesome
http://ohsheglows.com/2011/01/01/ultimate-vegan-lentil-walnut-loaf/
(however, I just used maple syrup for the glaze)
Sweet Potato Casserole:
4 cups sweet potato
1/2 cup sugar
2 Tbs flax seed, mixed with 6 Tbs water
1/2 tsp earth balance
1/2 cup non-dairy milk
1/2 tsp vanilla extract
TOPPING:
1/2 cup brown or coconut sugar
1/3 cup flour
3 Tbs earth balance
1/2 cup chopped pecans
preheat oven to 325.
peel and cube sweet potatoes and boil until soft enough to mash.
mash and add all ingredients (not inducing topping) and transfer to baking dish
Make topping mix in separate bowel and sprinkle over mashed sweet potato mix.
bake in oven for 30 mins
Roasted Brussels Sprouts
wash and prep fresh sprouts, toss with olive oil, salt and pepper and roast on 350 for approximately 30 mins.
Homemade Cranberry Sauce:
12 oz fresh cranberries
1/3 cup water
1.5 cup maple syrup
add all ingredients to saucepan and bring to a boil.  reduce heat to a simmer and cook for about 20 mins.  transfer into bowl and place in fridge to cool (sauce will thicken once cool)
Some of the best Easter treats are also Vegan!  For so many years, if you chose to be Vegan it meant "going without" certain things and traditions…. but now… almost everything has a vegan version!!!   (not to be confused with "healthy" but most certainly "yummy")
Some of my favorites:
Premium chocolate:    
http://www.premiumchocolatiers.com
offers a wide variety of Easter treats that you can't live without.
Like the vegan version of Cadbury cream eggs:
Chocolate (and white chocolate- I know vegan white chocolate!) bunny pops !!!
Divvies: 
http://www.divvies.com/   
Offers some delicious solid bunnies –
and while there you should also order Chocolate Brownie Cookie Sandwich with Vanilla Filling just because they are awesome!
VeganEssentials:
http://store.veganessentials.com/easter-gift-ideas-c108.aspx
is always a great place to stalk up on vegan treats:
http://store.sweetandsara.com/seasonal/
Vegan "peeps" & Vegan chocolate covered marshmallow bunnies – straight from your childhood!!
Sjaak's :  
https://sjaaks.com/categories/show/Easter
always has some yummy vegan treats.. and special ones for Easter
like the pb crunch egg:
Caramel filled chocolate eggs:
And some solid chocolate eggs
Rose City Chocolatier
If you like hazelnut truffles (or pb filled easter eggs)… these are the perfect ones for you!
http://www.rosecitychocolates.com/vegan-easter-products.php
The Natural Candy Store:   http://www.naturalcandystore.com/category/vegan-candy
Offers a variety of chocolate and other candy Easter treats.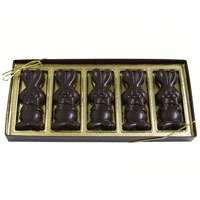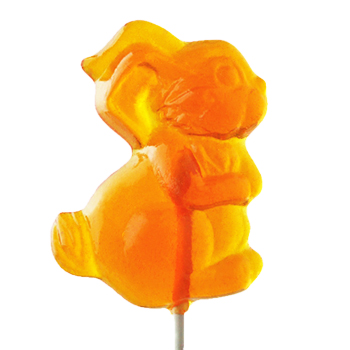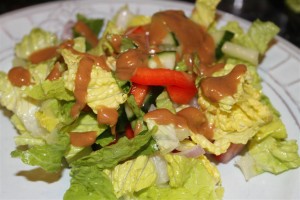 Peanut dressing
1/4 C peanut butter
1 Tbs braggs or soy sauce
1 Tbs Vegetable oil (I used extra light olive)
1 Tbs rice vinegar
2 Tbs coconut sugar (or brown sugar)
pinch of ginger powder
pinch of cayenne pepper
Hot water
Mix ingredients together and slowly add hot water until it is the consistency that you want for dressing.
This is amazing over salad or pasta, couscous, rice… the possibilities are endless!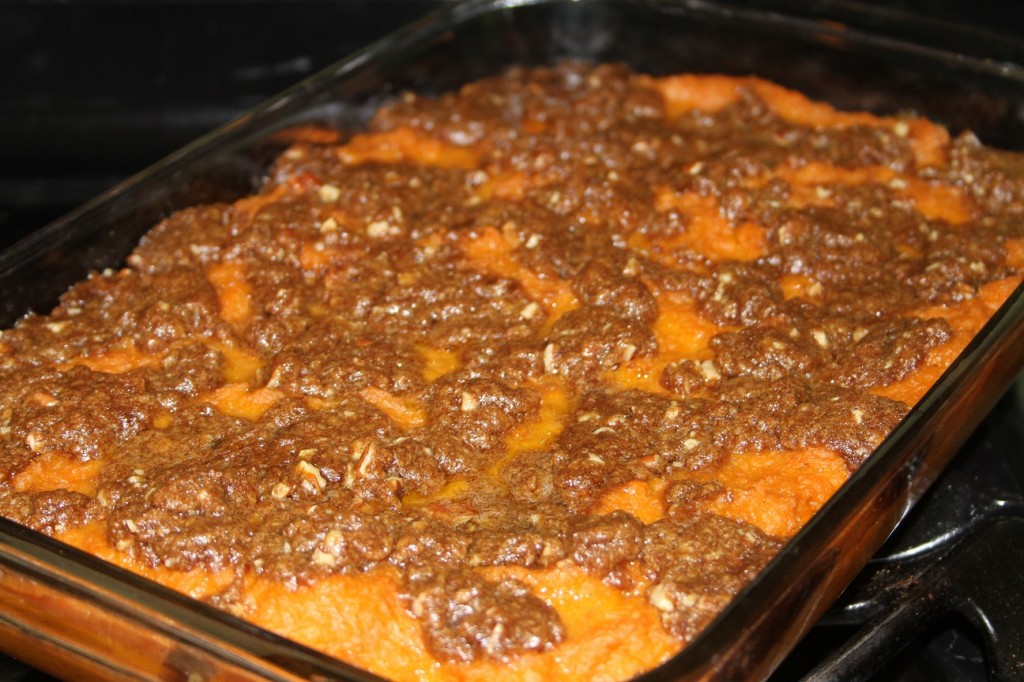 Sweet Potato Casserole
4 Cup  Sweet potatoes, cubed
½ Cup sugar (I used coconut sugar)
2 egg replacer (3 tsp energy & 2 Tbs water)
½ tsp salt
4 Tbs earth balance butter
½ cup non-dairy milk (soy, rice, almond etc.)
½ tsp vanilla extract
Topping:
½ Cup brown or coconut sugar
1/3 Cup flour
3 Tbs earth balance, soften
½ Cup chopped pecans
Preheat oven to 325. Boil sweet potatoes in water until soft.  Drain and mash with the rest of the ingredients (except topping).   Put in baking dish, top with "topping" mix.  Bake for 30 mins.
Homemade Lentil Soup
Olive oil
1 onion, chopped
2-3 carrot, diced
2 stalks celery, chopped
2 cloves garlic, minced
1 tsp oregano
1 tsp basil
1 bay leaf
1 14.5 oz crushed tomatoes
2 cups dried lentils, rinsed
8 cups of water (or 4 C water & 4 C veggie broth)
Fresh (or frozen) spinach
Salt & pepper to taste
Elbow pasta (1/2 box)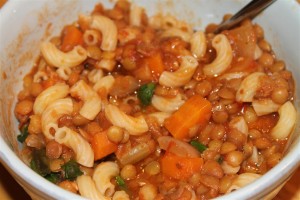 –          In a large pot, heat olive oil, onions, carrots, celery, garlic oregano and basil – cook until onions begin to soften.
–          Add lentils, bay leaf, water and tomatoes
–          Bring to boil and then reduce to simmer for 1+ hours
–          After 40 mins – boil water and cook pasta
–          Add spinach salt & pepper and cooked pasta to soup.
Pineapple-Cashew Quinoa
Quinoa – (cook 1-24 hrs prior)
1 C Quinoa, rinsed
1 C pinaplle juice
1 C water
½ tsp braggs amino acids or soy sauce
–          Combine Quinoa, juice, water and braggs in pot.  Bring to boil. Cover, reduce to medium heat and cook for about 15 minutes (until all liquid is absorbed)
–          Fluff with fork and refrigerate for an hour or overnight.
Stir Fry
3 Tbs oil (peanut, olive or veggie)
2 scallions
2 cloves garlic
1 inch piece fresh ginger, peeled and minced
1 red pepper, diced
1 cup frozen edamame (or peas)
1/2- 1 C carrots, shredded
Topping
3 Tbs Braggs or soy sauce
3 Tbs Vegetable broth
½ C cashews
½ C fresh basil
2 Tbs fresh mint
1+ C fresh pineapple (chunks) or 10 oz can
Lime wedges for garnish (optional)
–          Add stir-fry ingredients to a large pan, cook for about 5 minutes until edamame is no longer frozen and pepper is soft
–          Add Quinoa and topping ingredients.  Cook for another 10 minutes – stirring together and keeping quinoa from sticking to the bottom.
Strawberry Oatmeal Squares
1 ½ C Flour
1 ½ C Oats (quick cooking)
2/3 C Sugar
½ tsp Baking powder
¼ tsp salt
½ tsp cinnamon
¾ C vegan Margarine melted
1 vegan egg replacer
2 tsp Vanilla extract
1 14oz jar Strawberry preserves (or any other fruit you'd like!)
½ Coconut flaked
– Mix all dry ingredients (except coconut) together in large bowl (bowl 1)
– Add margarine & vanilla, stir
– set aside 1 ½ – 2 Cups (into bowl 2)
– Add egg replacer to bowl 1
– press mixture from bowl into baking pan
– spread preserves over crust
– Add coconut to mixture that you set aside (bowl 2)
– sprinkle over preserves
– Bake at 350 for 40 mins
Thai cashew stir-fry  – better than take-out!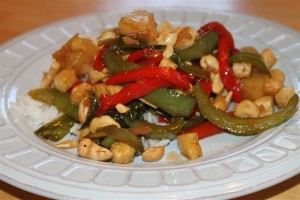 3 Tbs vegtable oil
1 Package extra firm tofu, cubed
2 cloves garlic
2 Tbs fresh ginger, minced
2 Tbs thai Chili sauce
9 Tbs Braggs amino acid (or soy sauce)
3 Tbs brown sugar
1 red pepper, cut into strips
1 green pepper, cut into strips
5 scallions or 1 onion
½ Cup cashews
Optional: pineapple
Optional: fresh basil
–       In a small bowl, mix together: Braggs, brown sugar and chili sauce
–       Heat part of the oil in non stick frying pan. Pan fry cubed tofu until crispy
–       Heat the rest of the oil in a large skillet or wok.
–       Add garlic & ginger and cook for a minute or two
–       Add vegetables and stir fry for just a couple of minutes
–       Add Braggs mixture to vegetables and cook for another 5 minutes or until peppers are softened
–       Add Tofu, cashews, pineapple & basil and mix.
–       Serve over rice.
–
Most Thai food restaurants use fish oil and/or fish broth in their stir-frys.  This recipe is VEGAN and just as tasty!