Archive for November, 2015
Thanksgiving can be celebrated with friends family and good food… without hurting any of our feathered friends!  In addition to countless vegan "turkey substitutes"  you can try making a homemade lentil loaf with all of the fixins!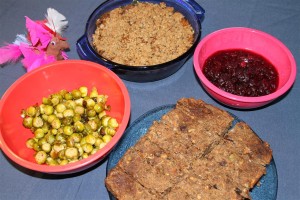 Lentil-Walnut loaf with a maple glaze:
I basically used this recipe from Oh She Glows… because it's pretty awesome
http://ohsheglows.com/2011/01/01/ultimate-vegan-lentil-walnut-loaf/
(however, I just used maple syrup for the glaze)
Sweet Potato Casserole:
4 cups sweet potato
1/2 cup sugar
2 Tbs flax seed, mixed with 6 Tbs water
1/2 tsp earth balance
1/2 cup non-dairy milk
1/2 tsp vanilla extract
TOPPING:
1/2 cup brown or coconut sugar
1/3 cup flour
3 Tbs earth balance
1/2 cup chopped pecans
preheat oven to 325.
peel and cube sweet potatoes and boil until soft enough to mash.
mash and add all ingredients (not inducing topping) and transfer to baking dish
Make topping mix in separate bowel and sprinkle over mashed sweet potato mix.
bake in oven for 30 mins
Roasted Brussels Sprouts
wash and prep fresh sprouts, toss with olive oil, salt and pepper and roast on 350 for approximately 30 mins.
Homemade Cranberry Sauce:
12 oz fresh cranberries
1/3 cup water
1.5 cup maple syrup
add all ingredients to saucepan and bring to a boil.  reduce heat to a simmer and cook for about 20 mins.  transfer into bowl and place in fridge to cool (sauce will thicken once cool)