Archive for September, 2012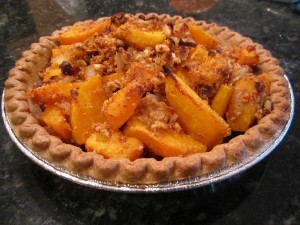 1 butternut squash, halved lengthwise, peeled and cut into 1-inch cubes
3 tablespoons extra virgin olive oil, divided
Salt and pepper to taste
1 yellow onion, thinly sliced
1/2 cup toasted hazelnuts, roughly chopped
1 egg equivalent with egg Re placer
1 cup fresh bread crumbs
1 frozen 9-inch whole wheat pie crust (in pie pan)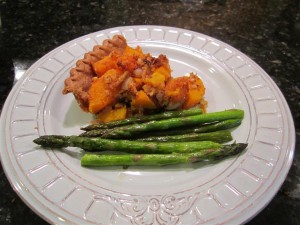 Preheat oven to 400°F. Roast butternut squash with olive oil, salt and pepper for about 20 mins.
Cook onion in olive oil, stirring often, until browned, 7 to 9 minutes.
Mix together roasted squash, cooked onion, hazelnuts, egg replacer, bread crumbs, salt and pepper and toss gently to combine. Transfer mixture to pie crust, pat down lightly and bake until crust is golden brown and filling is hot, about 40 minutes. Set aside to let cool for 10 minutes before slicing and serving.
RECIPE ADAPTED FROM:  http://wholefoodsmarket.com/recipes/2102
Review:  Tasty, but a bit dry… Next time I would skip the pie crust and bake other ingredients as a side dish/casserole.  Also would experiment with some additional seasoning.