Homemade Lentil Soup
Olive oil
1 onion, chopped
2-3 carrot, diced
2 stalks celery, chopped
2 cloves garlic, minced
1 tsp oregano
1 tsp basil
1 bay leaf
1 14.5 oz crushed tomatoes
2 cups dried lentils, rinsed
8 cups of water (or 4 C water & 4 C veggie broth)
Fresh (or frozen) spinach
Salt & pepper to taste
Elbow pasta (1/2 box)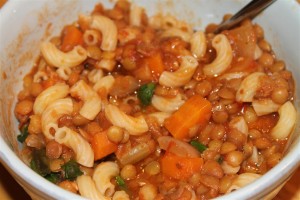 –          In a large pot, heat olive oil, onions, carrots, celery, garlic oregano and basil – cook until onions begin to soften.
–          Add lentils, bay leaf, water and tomatoes
–          Bring to boil and then reduce to simmer for 1+ hours
–          After 40 mins – boil water and cook pasta
–          Add spinach salt & pepper and cooked pasta to soup.
Pineapple-Cashew Quinoa
Quinoa – (cook 1-24 hrs prior)
1 C Quinoa, rinsed
1 C pinaplle juice
1 C water
½ tsp braggs amino acids or soy sauce
–          Combine Quinoa, juice, water and braggs in pot.  Bring to boil. Cover, reduce to medium heat and cook for about 15 minutes (until all liquid is absorbed)
–          Fluff with fork and refrigerate for an hour or overnight.
Stir Fry
3 Tbs oil (peanut, olive or veggie)
2 scallions
2 cloves garlic
1 inch piece fresh ginger, peeled and minced
1 red pepper, diced
1 cup frozen edamame (or peas)
1/2- 1 C carrots, shredded
Topping
3 Tbs Braggs or soy sauce
3 Tbs Vegetable broth
½ C cashews
½ C fresh basil
2 Tbs fresh mint
1+ C fresh pineapple (chunks) or 10 oz can
Lime wedges for garnish (optional)
–          Add stir-fry ingredients to a large pan, cook for about 5 minutes until edamame is no longer frozen and pepper is soft
–          Add Quinoa and topping ingredients.  Cook for another 10 minutes – stirring together and keeping quinoa from sticking to the bottom.