Home-made Pumpkin Ravioli with Hazelnut Cream Sauce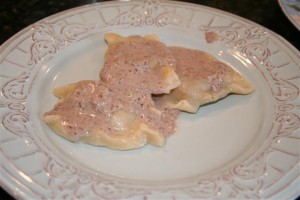 Pasta:
2 Cups Flour
2/3 Cup Water
½ tsp salt
1 T olive oil
Mix all ingredients together until dough comes together in a ball.  Kneed on floured surface until smooth. Cover and let rest for 10 minutes.  Roll out into sheets (or use hand crank pasta machine – Pull off small chuck (about 1/8th of ball) flour well and run through on 1st /largest setting, re-flour, fold into thirds and run through the 2nd setting, repeat until the desired thickness – we use #5 on our machine) if it's too thin then the fillings seems to seep out.  Once in strip and desired thickness, cut into squares, fill with pumpkin filling and fold, be sure to press together edges well so filling doesn't escape.  Place on flat floured surface until ready to cook – DO NOT stack on top of each other or they will stick and rip.   Once ready to cook, place 5 or 6 raviolis into boiling water. Wait until raviolis start to float (about 30 secs) and take out of water with slotted spoon.
Filling:
1 large Carrots
1 small onion
1 cloves garlic, minced
1 Tbs vegan margarine or oil
1 16 oz can pureed pumpkin
Salt & pepper to taste
1tsp coriander
1 tsp allspice
1 Tbs Maple syrup
In a medium pot, cook carrot, onion, garlic, salt, pepper coriander and allspice  in margarine until soft.  Then, add pumpkin puree and maple syrup.  Cook on low heat for a few minutes or until ready to use.
Sauce:
2 Cups Soy Milk
1 Cup toasted, chopped hazelnuts
3 cloves garlic, minced
Dash white pepper
Dash cayenne pepper
Combine all ingredients in small pan and bring to a boil.  Lower heat and simmer for 10 mins.  Transfer to food processer or blender and blend until smooth.  Return to pan and keep warm on med-low heat.  If not thick enough bring back to a boil until thickened.
Also – These are seriously DELICIOUS!!!!!