Archive for the 'Vegan Lunch & Dinners' Category
Thanksgiving can be celebrated with friends family and good food… without hurting any of our feathered friends!  In addition to countless vegan "turkey substitutes"  you can try making a homemade lentil loaf with all of the fixins!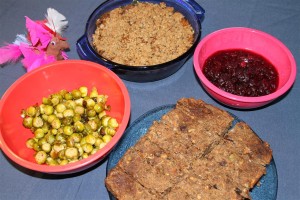 Lentil-Walnut loaf with a maple glaze:
I basically used this recipe from Oh She Glows… because it's pretty awesome
http://ohsheglows.com/2011/01/01/ultimate-vegan-lentil-walnut-loaf/
(however, I just used maple syrup for the glaze)
Sweet Potato Casserole:
4 cups sweet potato
1/2 cup sugar
2 Tbs flax seed, mixed with 6 Tbs water
1/2 tsp earth balance
1/2 cup non-dairy milk
1/2 tsp vanilla extract
TOPPING:
1/2 cup brown or coconut sugar
1/3 cup flour
3 Tbs earth balance
1/2 cup chopped pecans
preheat oven to 325.
peel and cube sweet potatoes and boil until soft enough to mash.
mash and add all ingredients (not inducing topping) and transfer to baking dish
Make topping mix in separate bowel and sprinkle over mashed sweet potato mix.
bake in oven for 30 mins
Roasted Brussels Sprouts
wash and prep fresh sprouts, toss with olive oil, salt and pepper and roast on 350 for approximately 30 mins.
Homemade Cranberry Sauce:
12 oz fresh cranberries
1/3 cup water
1.5 cup maple syrup
add all ingredients to saucepan and bring to a boil.  reduce heat to a simmer and cook for about 20 mins.  transfer into bowl and place in fridge to cool (sauce will thicken once cool)
Summer Lentil Burgers
8-10 burgers
1 cup dry lentils, well rinsed
2 1/2 cups water – may need to add more if needed
1/2 medium onion, diced (or onion powder in a pinch)
1 red pepper diced
1 fresh ear of corn- cut off kernels (or some frozen)
Handful of spinach, kale or other green
1 cup (apx) of flour (can be reg or gluten free)
1/2 teaspoon salt
1 tablespoon olive oil
1/2 teaspoon salt
1 tablespoon olive oil
½ tsp Garlic powder
Directions
Boil lentils in the water with the salt for around 45 minutes. Lentils will be soft and most of the water will be gone. Add more water id lentils aren't mushy yet and you need to continue cooking
Once lentils are mushy – throw in fresh veggies and cook for 3-5 mins.
In a bowl mix the cooked ingredients with flour, and any spices (spices are apx. And you may want to add more or less depending on your taste)
While still warm form the mixture into patties, it will make 8-10 burgers.
On a cookie sheet lines with tin foil – grease lightly with olive oil
Bake at 350 or 400 for 10 mins or so – check to make sure bottoms aren't getting burnt – I also put on Broil for 1 min at end to brown tops.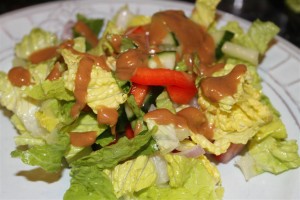 Peanut dressing
1/4 C peanut butter
1 Tbs braggs or soy sauce
1 Tbs Vegetable oil (I used extra light olive)
1 Tbs rice vinegar
2 Tbs coconut sugar (or brown sugar)
pinch of ginger powder
pinch of cayenne pepper
Hot water
Mix ingredients together and slowly add hot water until it is the consistency that you want for dressing.
This is amazing over salad or pasta, couscous, rice… the possibilities are endless!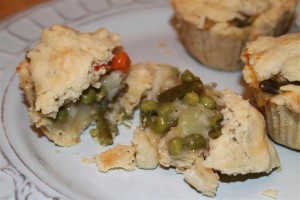 Pie crust
2 cups flour
1 tbsp sugar
1/2 tsp salt
1/2 cup plus 2 tbsp vegan margarine (Used earth balance)
2 tbsp vegetable oil
3 tbsp cold water
Mix & Put in fridge for 30 mins before making crust.
Filling:
chopped potato
chopped onion
chopped carrots
peas
green beans
lima beans
vegan gravy (I used a packet that you add water to)
optional:  vegan "chicken"  – I like Life Light
– Simmer in gravy (covered) until potatoes are soft.
* Fill pie crust with filling and top with additional crust – this can be made as one big pie or mini-pies in a cup cake pan.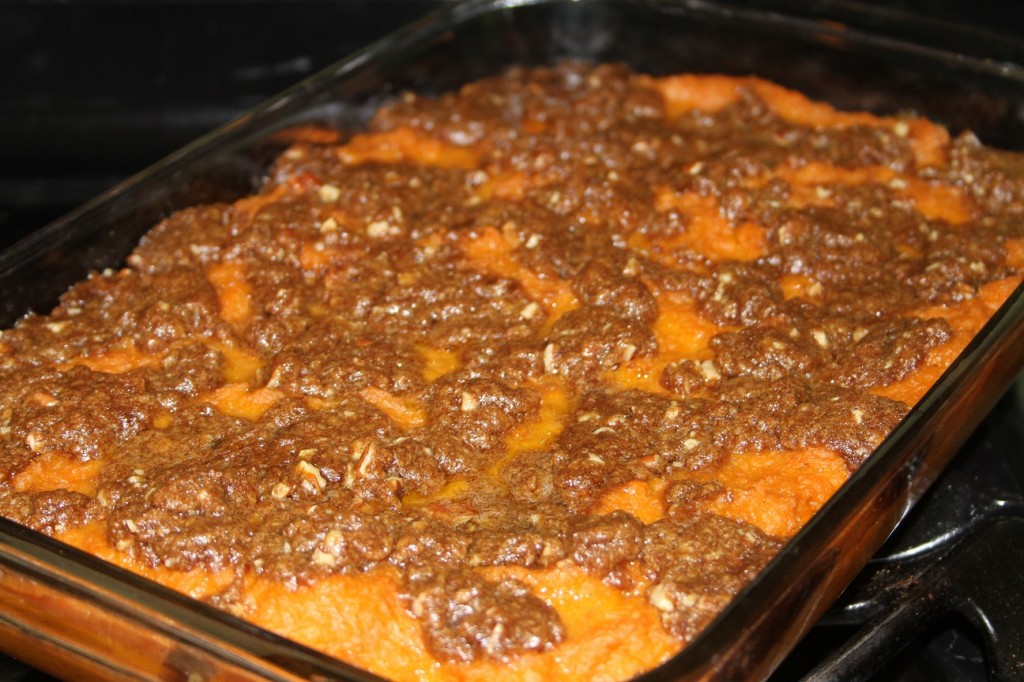 Sweet Potato Casserole
4 Cup  Sweet potatoes, cubed
½ Cup sugar (I used coconut sugar)
2 egg replacer (3 tsp energy & 2 Tbs water)
½ tsp salt
4 Tbs earth balance butter
½ cup non-dairy milk (soy, rice, almond etc.)
½ tsp vanilla extract
Topping:
½ Cup brown or coconut sugar
1/3 Cup flour
3 Tbs earth balance, soften
½ Cup chopped pecans
Preheat oven to 325. Boil sweet potatoes in water until soft.  Drain and mash with the rest of the ingredients (except topping).   Put in baking dish, top with "topping" mix.  Bake for 30 mins.