Archive for the 'Vegan Lunch & Dinners' Category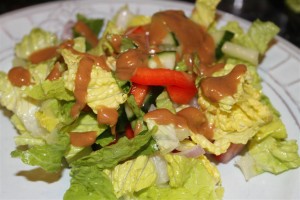 Peanut dressing
1/4 C peanut butter
1 Tbs braggs or soy sauce
1 Tbs Vegetable oil (I used extra light olive)
1 Tbs rice vinegar
2 Tbs coconut sugar (or brown sugar)
pinch of ginger powder
pinch of cayenne pepper
Hot water
Mix ingredients together and slowly add hot water until it is the consistency that you want for dressing.
This is amazing over salad or pasta, couscous, rice… the possibilities are endless!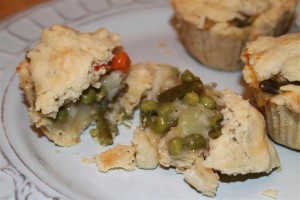 Pie crust
2 cups flour
1 tbsp sugar
1/2 tsp salt
1/2 cup plus 2 tbsp vegan margarine (Used earth balance)
2 tbsp vegetable oil
3 tbsp cold water
Mix & Put in fridge for 30 mins before making crust.
Filling:
chopped potato
chopped onion
chopped carrots
peas
green beans
lima beans
vegan gravy (I used a packet that you add water to)
optional:  vegan "chicken"  – I like Life Light
– Simmer in gravy (covered) until potatoes are soft.
* Fill pie crust with filling and top with additional crust – this can be made as one big pie or mini-pies in a cup cake pan.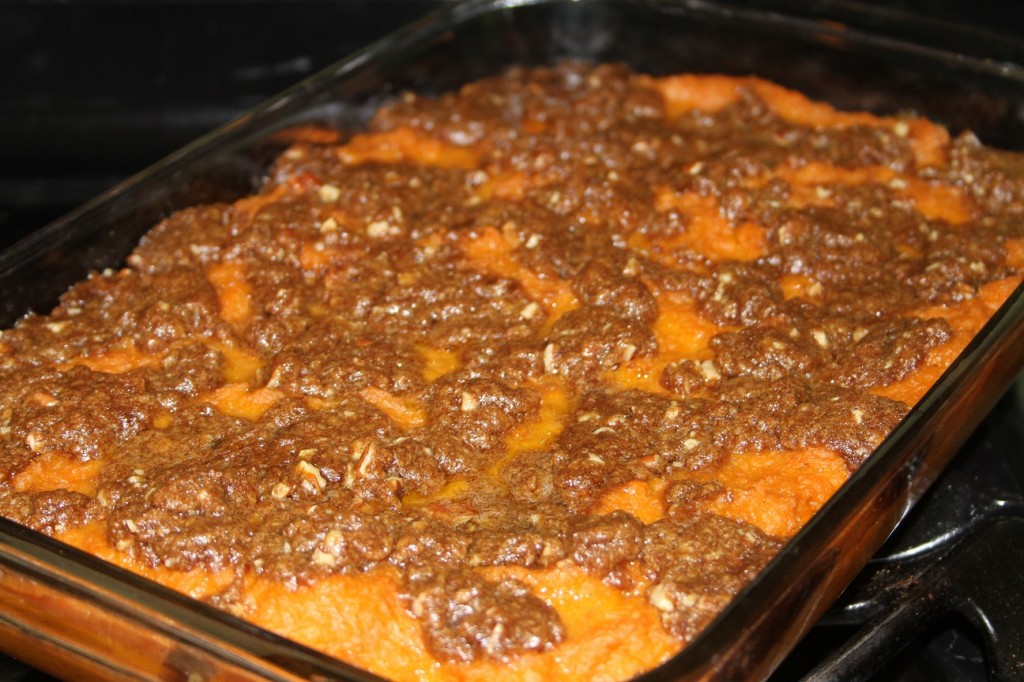 Sweet Potato Casserole
4 Cup  Sweet potatoes, cubed
½ Cup sugar (I used coconut sugar)
2 egg replacer (3 tsp energy & 2 Tbs water)
½ tsp salt
4 Tbs earth balance butter
½ cup non-dairy milk (soy, rice, almond etc.)
½ tsp vanilla extract
Topping:
½ Cup brown or coconut sugar
1/3 Cup flour
3 Tbs earth balance, soften
½ Cup chopped pecans
Preheat oven to 325. Boil sweet potatoes in water until soft.  Drain and mash with the rest of the ingredients (except topping).   Put in baking dish, top with "topping" mix.  Bake for 30 mins.
Vegan Chili
1 T vegtable oil
1 Onion, chopped
1 green pepper, chopped
1 ½ T Chili powder
2 tsp cumin
2 tsp salt
4-6 cloves garlic, minced
1 package Yves Ground "beef" (or a can of black beans rinsed & drained)
(http://www.yvesveggie.com/products/detail.php/meatless-ground-round-original  this is in the produce section next to the tofu in most grocery stores)
1 can dark red kidney beans, rinsed and drained
1 14 oz can diced tomatoes
1 28 oz can crushed tomatoes
–          Saute onion, peppers and spices in oil in a large pot until onions begin to soften
–          Stir in garlic & "beef" and cook/ break apart "beef" for a minute
–          Add tomatoes and beans and simmer for about 20 minutes.
–          Serve with homemade corn bread… recipe to come =)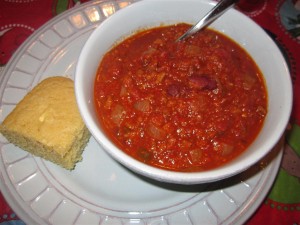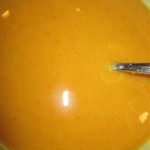 Sweet Potato & Carrot Bisque   – warm, spicy and perfect for a winter's dinner =)
1 T of vegetable oil
1 onion, diced
1-2 celery stalks, chopped
2-3 cloves of garlic, smashed
4 Cups water or vegetable broth
2 Cups sweet potatoes, peeled and diced
1 Cup carrots, peeled and diced
1 tsp cumin
½-1 tsp salt
½ tsp pepper
½ tsp Curry powder
1 Cup almond milk (or soy or rice milk)
–          In a large pot, sauté the onion, garlic and celery in the oil for a few minutes
–          Add water/broth and potatoes, carrots and spices bring to a boil and cook until veggies are soft (about 15-20 mins)
–          Transfer to blender/food processor or use immersion blender to blend until smooth (if using a blender make sure to hold lid down with oven mitt so as not to burn your hand)
–          Pour smooth soup back into pot and add milk, heat on low until you serve!
SWEET POTATO GNOCCHI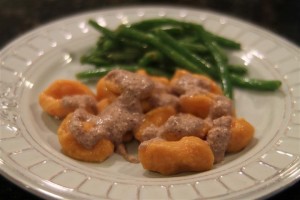 2 small sweet potatoes
1.5-2 cups Flour
1/2 tsp olive oil
seasonings: salt, pepper, cinnamon, nutmeg
– Peel & cube sweet potatoes and boil in pot until soft
– Mash Sweet potatoes & add oil & seasonings
– Add flour and mix until dough forms
– kneed for 5 minutes
– cut dough into strips and roll into cylinders (use more flour to work with dough)
– Cut off 1-2″ pieces – press with thumb to make gnocchi shape
– lay out on parchment paper until ready to cook
– Bring Pot of water to a boil – add gnocchi & wait until they start to float (about 2 mins)
– Once floating, reduce heat to medium and cook for 4 minutes
– strain and serve
HAZELNUT CREAM SAUCE
1 Cup hazelnuts
2 cups almond or soy milk
3 cloves of garlic, chopped
season to taste- salt, pepper, dash of paprika
– lightly toast hazelnuts
– bring milk to a boil
– add nuts & garlic & seasoning
– simmer on medium for about 10-15 minutes
– Blend in food processor
– Return to pot and either continue to cook to thicken or add more milk to thin to the sauce consistency you would like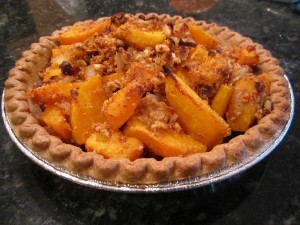 1 butternut squash, halved lengthwise, peeled and cut into 1-inch cubes
3 tablespoons extra virgin olive oil, divided
Salt and pepper to taste
1 yellow onion, thinly sliced
1/2 cup toasted hazelnuts, roughly chopped
1 egg equivalent with egg Re placer
1 cup fresh bread crumbs
1 frozen 9-inch whole wheat pie crust (in pie pan)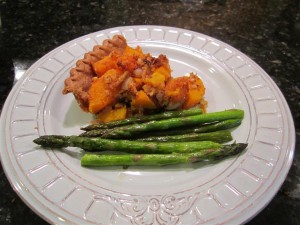 Preheat oven to 400°F. Roast butternut squash with olive oil, salt and pepper for about 20 mins.
Cook onion in olive oil, stirring often, until browned, 7 to 9 minutes.
Mix together roasted squash, cooked onion, hazelnuts, egg replacer, bread crumbs, salt and pepper and toss gently to combine. Transfer mixture to pie crust, pat down lightly and bake until crust is golden brown and filling is hot, about 40 minutes. Set aside to let cool for 10 minutes before slicing and serving.
RECIPE ADAPTED FROM:  http://wholefoodsmarket.com/recipes/2102
Review:  Tasty, but a bit dry… Next time I would skip the pie crust and bake other ingredients as a side dish/casserole.  Also would experiment with some additional seasoning.