BLACK BEAN COUSCOUS topped with TOMATO SALAD – QUICK AND EASY!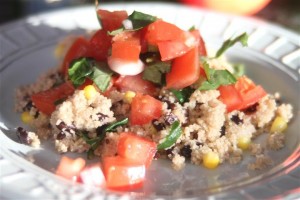 –       1 Cup uncooked Couscous
–       2 Cups Water or broth (I usually do ½ and ½)
–       ½ onion, chopped
–       2-3 cloves of garlic, chopped
–       Olive oil
–       Frozen (or fresh) corn
–       1 Can Black Beans, rinsed/drained
Tomato Salad:
–       2-3 fresh tomatoes, chopped
–       Fresh basil
–       Olive Oil
–       Salt & pepper to taste
Put chopped tomatoes and chopped basil in a bowl, generously drizzle with olive oil, season with salt & pepper
In a pot, sauté onion & garlic and corn in olive oil for about 2 mins.  Add water/broth bring to a boil.  Add Couscous & black beans, cover  and let sit for 5 minutes until the water is absorbed.  Top with tomato salad and serve!