VEGG REVIEW: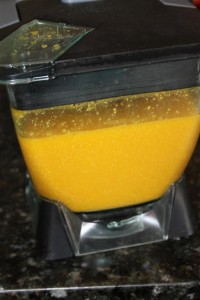 Having been a vegan for the past 22 years, I have to admit that I can't even remember what an actual "egg" tastes like.  That said, I was very excited to try recipes that I haven't had for years.
When I first blended the Vegg powder with water, I was struck by how close it resembled an actual egg.  After being turned off by "eggs" for so many years, I had to actually overcome the smell and look to begin cooking with it.  After consulting with my non-vegan husband, he confirmed that the look and consistency was as close as possible to a "real" egg yolk.   It is easy to prepare (simply blend powder with 1L water in the blender).  The down side is that it is a large quantity that you then need to refrigerate or freeze (there is no easy way to blend a smaller portion).
I used the Vegg in two different recipes to get an idea of how it tastes and how easy it is to work with.
1)      Almond French toast: DELICIOUS!!!!!!
–          5 tsp Vegg
–          1 C vanilla soy or almond milk
–          3 Tbs flour
–          ¼ tsp salt
–          ½ tsp baking powder
–          ½ tsp almond extract
Thickly sliced French bread
Vegetable oil & vegan margarine for cooking
Wisk together Vegg, milk, flour, salt baking powder and almond extract.
Dip and soak bread in mixture
Place slices in a shallow dish and refergirate (if time)
Heat oil & margarine over medium heat and fry bread on both sides until browned
I topped with fresh berries and drizzled with maple syrup
2)      Home-made egg rolls:   The homemade egg roll wrappers were a bit of a challenge to make.  It's a delicate process that will probably take a few more times to master!  They turned out tasty – but the wrappers were a little too thick which I think I will remedy with practice.
–          1 Tb Vegg
–          ¾ C cold water
–          ¼ tsp salt
–          7/8 C flour
–          Peanut oil for cooking
Wisk together everything but oil.
Heat nonstick pan to high heat, then lower to low once hot.
Add oil to pan
Scoop in ¼ C of four mixture – immeadietly spread out mixture to a thin layer – in under a minute the edges will begin to curl and the wapper is done
Place on paper towel to cool
Once cool – fill with filling and wrap.  (I used cabbage, carrots, scallions, bean sprouts and fresh ginger lightly sautéed with a dash of braggs/soy sauce)
You can then fry or bake eggrolls – I sprayed mine with oil and baked on 400 until browned
Overall, the Vegg is a fantastic addition to the Vegan kitchen.
The folks at Vegg were nice enough to send a free sample of their product for me to review.