Vegetable Red Curry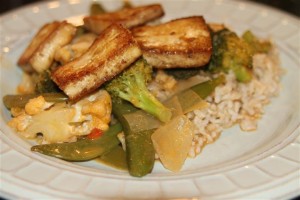 1 package of Extra Firm Tofu sliced  and pan fried with a dash of curry powder, sugar and Braggs
Fresh Vegetables (Broccoli, cauliflower, sugar snap peas, peppers)
Vegetable oil to cook
1 onion, sliced
3 garlic cloves, chopped
2 tsp Thai red curry paste
14oz can Light Coconut Milk
3 Tb Braggs or soy sauce
1 Tb brown sugar
Peanuts to top!
In a pan, heat oil, onion, garlic and curry paste stirring until onion is softened.  Add coconut milk, vegetables and seasonings. Bring to a boil and then simmer until vegetables are tender.  Top with seared tofu and peanuts!
Vegan Coconut cake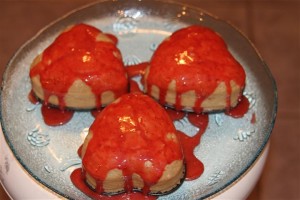 ¾ C Sugar
2 ¼ C Flour
1 tsp Baking powder
1 ½ non-dairy milk (I used Almond)
¼ C + 1 Tb melted vegan margarine (I use Earth Balance)
1 tsp vanilla
½ C Shredded coconut
Preheat oven to 350
Mix together: Sugar, flour, baking powder
Add in: Milk, margarine and vanilla while stirring
Fold in coconut
Vegan Strawberry frosting
1 C frozen or fresh strawberry
1 T water
2 C Powered Sugar
2T margarine
In a small pan, bring strawberries & water to a simmer.  Cook for about 10 mins.  Place in food processer with sugar and margarine…. Blend!