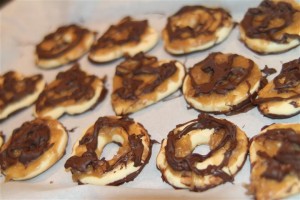 REVIEW: Vegan Samoas
Recipe found on VegNews:
http://vegnews.com/articles/page.do?pageId=4249&catId=11
Well, after 5 hours of mixing, baking, waiting, heating, stirring, coating, waiting…. I'd say these cookies are good.  Not great, not bad, but good.   Would I happily eat and enjoy them – yes!  Would I spend the time and effort to make them a second time – definitely not!