Archive for the 'Vegan Breakfast' Category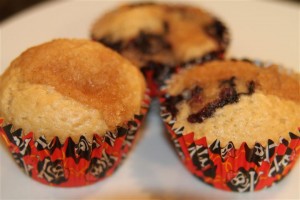 1 ½ Cup Flour
¾ Cup sugar
¼ tsp salt
2 tsp baking powder
1/3 Cup Vegetable Oil
1 egg replacer
About 1/3 Cup non-dairy Milk (soy, almond, rice)
1 Cup fresh blueberries
Sugar to sprinkle on top of muffins
–          Preheat oven to 400
–          Combine flour, sugar, salt and baking powder
–          Mix egg replacer in a 1 cup measuring cup. Add 1/3 cup oil.  Add Milk to fill cup.
–          Mix, then fold in blueberries.
–          Use ice cream scoop to scoop into muffin liners and top with a sprinkle of sugar (and cinnamon if you'd like)
Tofu scramble:
- Extra Firm tofu (mash with fork)
- 1 tsp curry powder
- 1/2 tsp cumin powder
- onion powder, garlic powder, salt & pepper to taste
- some quick cooking oats (optional)
Mash together in bowl – then cook on non-stick pan on med-high.  I add onions, spinich and carrots… sometimes zucchini, peppers any veggis really. My toddler loves it!  I always eat it with toast!